What we offer our patients...
Specialized education
Our highly-trained staff provides every patient with the education needed to ensure maximum success with PAP therapy. We understand how adjusting to life with PAP can be especially difficult during the first few days and weeks of therapy, and having a sleep specialist available to help during this adjustment period is vital. Even if you have been using PAP for years, you still may require additional education or advice on achieving optimal success, and our team is here to provide that care and support.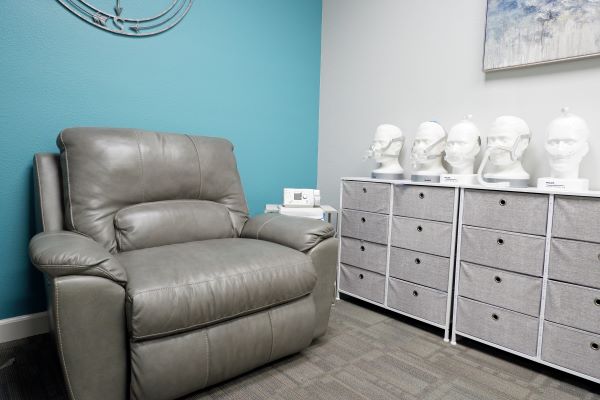 Mask fittings
We understand that there is no way for you to know if a mask is right for you unless you get the opportunity to try it on. Not all masks work for every patient, and finding the right mask is one of the most important steps to achieving success with PAP therapy. If the mask leaks, or is uncomfortable to wear, there is a very good chance it won't be worn.
We want to ensure that patients get the chance to try a variety of mask options in the hopes we find the perfect fit.
30-day mask exchange
It is hard to really know how you are going to feel about a mask until you have had the opportunity to sleep with it in your own bed. Therefore, even with a detailed in-office mask fitting a patient may find that the mask does not work well for them at home.
Our 30-day mask exchange program takes the hassle out of switching mask styles. You simply let us know within the first 30 days and we will exchange the mask with any other option you prefer at no addition cost to you.
Resupply made easy
We understand the importance of maintaining your PAP equipment. Regularly replacing your supplies is an important part of successfully treating sleep apnea. However, it can be difficult to remember equipment replacement schedules. Utilizing our "Connect" resupply program, patients are notified when they become eligible to replace their supplies. Patients also have the added option of signing up for "Auto-Resupply" with equipment automatically mailed monthly based on the replacment schedule recommended by the manufacturer and your insurer.
Option to have supplies mailed directly to your home
Not everyone wants to come into the office to pick up their supplies, especially if you live outside of Anchorage. We therefore offer mail delivery of your supplies at no additional cost.
5-year warranty*
Our 5-year warranty program takes the worry out of what to do if your machine stops working. Most companies only carry a 2-year warranty with their devices. This is a real problem if your machine breaks during the 3rd or 4th year, as most insurances will only consider replacing the machine every 5 years. Our additional extended warranty covers the expected life of the device making the process so much easier if any unexpected problems should occur. This extended 3-year warranty is made available at no extra cost to our patients. (* 5-year warranty is only available on Respironics devices)
Detailed insurance benefit verification
Before you are set up with your PAP equipment we run a detailed insurance verification check to ensure that your PAP therapy is covered by your insurance. We will then provide you an estimate of the charges you should expect to see on your first visit with us.